Are you frustrated because you can't play the way you want?
Would you like to avoid the trial and error approach?
Do you want to save time and money by learning correctly from the beginning?
If you answered yes to any of those questions, you're in the right place. I know exactly how you feel. I felt the same way until I found someone who was able to teach me how to overcome the problems I was facing in my own playing. It took me years to find that teacher, but when I finally did, it made all the difference in the world.
Do You Struggle With Any Of These?
Learning songs fast
Strumming easily
Changing chords smoothly
Expressing yourself the way you want
Impressing friends and family
Making sense out of music theory
Writing your own songs
With The Right Teacher, All Of These Can Be Easy
Playing music is not the mystery people make it out to be. I've helped many people with no musical background play songs, strum correctly, write their own music and do all kinds of things they never thought possible on the guitar. When you take lessons from me, you'll learn:
How to have tons of fun even with "simple" songs
What guitar teachers don't tell you about strumming
Quick practice techniques for those days you don't have much time
"Isolation practice" that will help you develop your playing much faster than usual
Common chord progressions used in hit songs and how you can use them too
The right order in which to so you build a solid foundation for your playing
How to play your favorite songs even if you don't know all the chords yet
 Here's What People Are Saying About Lessons

It doesn't matter how "talented" you think you are. In fact, talent has very little to do with your success. By learning guitar in the right order with the right strategies, you'll be playing your favorite songs faster than you thought possible. Don't let self-doubt or fear of failure stop you from taking action – I've dedicated myself to helping you reach your musical goals as fast as possible, so there's no reason to wait another day.
Lessons Should Be Fun AND Effective
If you're not having fun or you don't feel like you're getting better, you're probably going to give up pretty quickly. That's why when you take lessons from me you'll have lots of opportunities to play your favorite songs, learn cool riffs, and play real music with other guitarists. You'll not only have fun playing your favorite songs, you'll enjoy the process of learning so you stay highly motivated and get better fast.

Not All Guitar Lessons Are Created Equal
Guitar lessons can be so much more than just learning "stuff". I'm not going just give you stuff to learn like most teachers do. I'm going to walk you through every step of the process, give you the training you need to overcome every obstacle, provide specific strategies you can use to maximize your progress, and do everything in my power to help you become the kind of guitar player you want to be.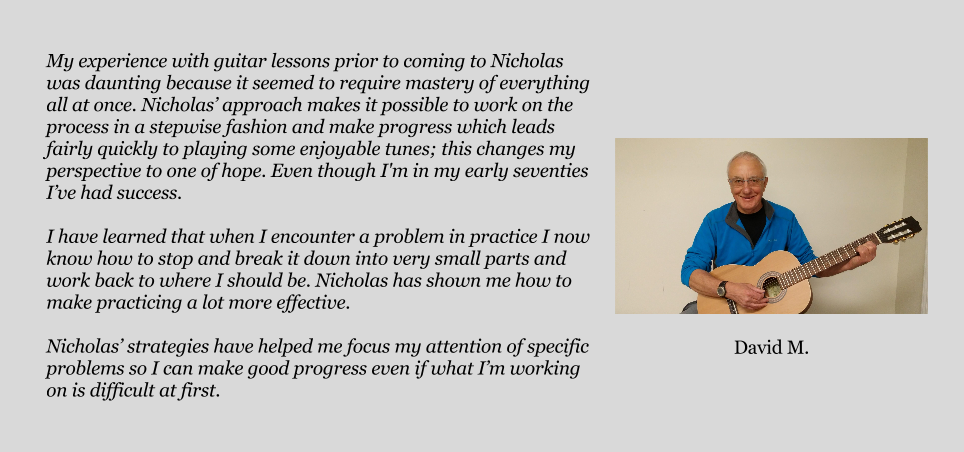 7 Reasons to Get Started Today
1. Total Dedication to Your Success
You need a teacher, coach and mentor who is 100% dedicated to your success. With me, you get exactly that. Whether you're a beginner or advanced, you're going to face challenges that a dedicated teacher will help you resolve faster and easier than struggling on your own. There's no replacement for someone who is absolutely, 100% committed to your success.
2. Individualized Lesson Plans So You Reach Your Personal Goals (Not the Teacher's Goals)
You have your own goals and desires for your guitar playing, which is why your lessons are going to be designed to help you reach your specific goals. Whether it's playing songs with friends and family, getting ready to study for a music degree or preparing for a career as a professional musician, your goals are what drive your lessons.
3. More Options
You have more options that just private lessons – occasional lessons, evaluation sessions, children's music classes, music theory, and the Elite Guitar Training Program. You need the right lesson format for your specific needs, which is why I have more choices and options than any other guitar teacher in Olympia.
4. The Elite Guitar Training Program
This unique and innovative program is designed to give you maximum results in the shortest amount of time possible. With the Elite Guitar Training Program, you can learn much faster than learning alone, from YouTube videos, or from an average guitar teacher. Longer lesson time means more training, more coaching, and better progress.
5. Experience and Training Matters
If you want dramatic improvement, you need someone who has experience and knowledge – someone who's seen the problems you're having and can tell you exactly what you need to do to solve whatever is hindering you from becoming the guitarist you dream of being. With over 11 years of teaching experience and continual training from one of the top guitar teachers in the world, you can be confident that you're going to get the best instruction and training available.
6. Learn to Play Guitar, Not Just Chords and Songs
Yes, you can and will learn to play your favorite songs, but learning chords and songs is not learning how to play the guitar. The sad truth is that many people do not learn how to play guitar, they learn how to play one small element of the guitar. I will help you build a great foundation for your playing so you can do whatever you want!
7. Higher Standards = Superior Results
The truth is that you can waste a lot of time and money with an ineffective guitar teacher. I hold myself to a high standard and will insure you get the best possible lessons so you make the maximum amount of progress in your playing.