"Nicholas has particular expertise…he's an exceptional teacher…he meets people's individual needs and sees where people are at and design their lessons accordingly…I'm making better progress and more accurate progress with him than I would with another teacher." – Janelle M.
---
"He's organized, helpful, and has a sense of humor." – Taylor G.
---

"I would definitely recommend him." – Jonathan B.
---

"…the best part is that I can actually play music." – Lois A.
---
---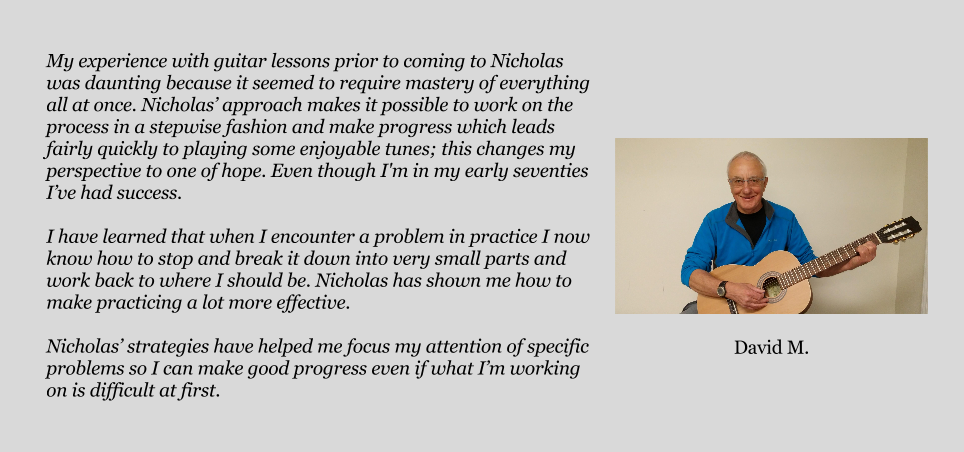 ---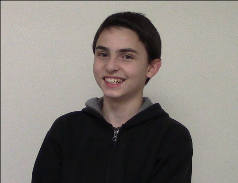 "I really like all the cool songs we get to learn. Nick helps me fix my mistakes and makes me excited about guitar. It's really fun!" – Elijah N.
---
"I took lessons from Nick for 3 years and he taught me from the ground up on the guitar and bass. Along with being an incredible musician, Nick is great at teaching all sorts of techniques and styles as well as thoroughly explaining music theory in an understandable way. I still use the theory he taught me daily in my role as a musician and an audio engineer." – Andrew J.
---
"Before taking lessons from Nick, I mostly played around for fun and only knew how to play simple chords and songs. Eventually, I wanted to learn more and take my guitar playing to the next level, but didn't know how. I found Nick to be a very knowledgeable and talented musician. He understands technique and theory very well and knows how to teach it. Before I started learning from him he sat me down and talked about what I wanted to accomplish and get out of my lessons. He asked me what style of music I was interested in and what types of things I wanted to learn and made a plan that was specific to my goals and passions. He kept it fun and challenging and when I got discouraged or unmotivated he encouraged me and kept me engaged. I am very happy with the level of playing I was able to achieve and the new techniques that I learned. I highly recommend Nicholas Anderson to anyone interested in learning guitar." –
Jeanine T.
---
"Nick taught my son how to play the guitar. It was a great experience for our family. Nick is a highly qualified teacher but he also has a tremendous sense of humor that makes for a great learning environment. The qualities I want in the person who teaches my son are character and competency. Since I am paying for lessons I want my son to be safe and I want him to learn. Nick has these qualities. In addition, Nick has a unique personality. He will make learning as relaxed and fun as possible. We now live in South America and we cannot have Nick as a teacher. The love for guitar he instilled in my son is still around today. We hope to find a professor who can continue on in the Nick Anderson tradition. That will not be easy." – Doug L.
---
"Nick really takes the time to understand each student's unique needs and abilities. He is able to identify what's holding me back, get to the root of the problem, and get me motivated to reach my goals." – Ruben S.
---
"Nicholas is very organized and has helped me build a foundation for playing is any musical genre. With my previous teacher, I was just learning songs without really building on a foundation. I've learned a lot from Nicholas, including how to practice effectively and how to learn a piece of music easier.
I like the current structure used which provides a lot of variation over the month but at the same time sets up some defined goals for what is to be learned.  It helps me greatly knowing what to practice and knowing that I am going to build upon that all month.  I also like having the opportunity to expand my musical experience by being able to play with others or, if I so choose, to learn about music theory.
Nicholas is a very patient instructor who believes in developing a sound foundation and understanding of playing guitar. He is very encouraging, providing enough insight & encouragement to keep me motivated and challenged.
I really like the current program that is used as opposed to the standard 1/2 hour lesson.  With the system he uses, I get plenty of one on one time and I also get to interact with other students.  To me this is really key, as I have no previous musical background other than grade school sing-alongs. It really helps me to understand the bigger picture of playing music." – David A.
---
"Nick has been supportive and a good problem solver for my struggles as I learn to play guitar. I appreciate his positive attitude and honesty with me. He and I have, from time to time, both identified any area of struggle and he has been honest enough to provide me with straight forward feedback and solutions that I can use to improve.
I am fortunate to have a teacher who is able to break lessons into pieces giving me techniques I can use to learn what challenges me. I have gained an appreciation for the complexity of playing any instrument. I have also learned that playing guitar is not just about playing songs, but it is also about the techniques, skills, attitude, perseverance, and personal goals.
I really like the lesson format. I particularly like that I get expert interventions when I have trouble. I usually go home with some new approach to include in my practicing during the coming week.
Nick is professional, enthusiastic, an expert teacher, encouraging and wanting me to succeed. Lessons are really self-paced because he is student oriented and want to meet the students' needs." – Lois A.
---